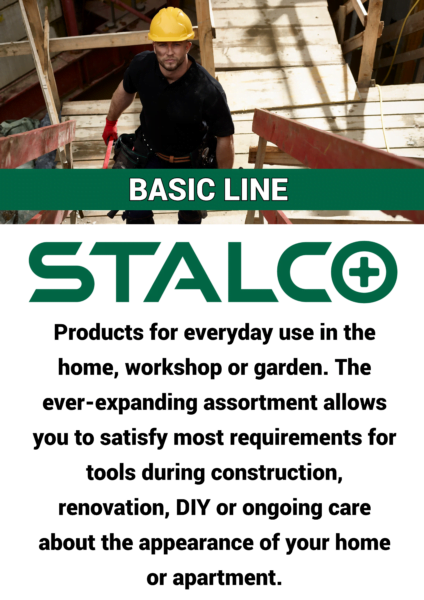 Our company was founded in 1998 and since the beginning of its operation, we have successfully provided a wide range of anchoring tools and techniques for professional and home applications. The main points of the company's philosophy, and ones that guarantee our success are the high quality of our solutions and the absolute focus on customer needs.
 One of the largest multi-tool and PPE manufacturers in Central Europe
We are constantly working on developing our STALCO brand, which since its inception has won recognition and trust of customers, becoming one of the leading brands on the Polish market.
As professionals, we are constantly focusing on the qualifications of our employees and their continuous expansion. Starting with storage resource management through a comprehensive customer service to the team comprised of representatives who know their trade well, we focus on ambitious and experienced people for whom the good name of the company is an asset that deserves care and great commitment.
Our success is inextricably linked to the satisfaction of our Customers. Therefore, we try to meet their needs through:
the high quality of our products assured by quality control
guaranteed timely delivery due to standardized management systems for distribution channels carried out through the world's leading shipping companies, and above all by means of own transport
trained personnel with high competence and the necessary theoretical knowledge that guarantees adherence to accepted standards of work and customer service
to raise the level of service and the efficiency of management, we decided to implement and maintain a quality management system. See section on quality policy
All our efforts are focused on the individual needs and satisfaction of our customers. In our opinion, continuous availability of product offers and comprehensive information about products are an obvious part of optimal customer service. This thesis is backed by a high level of customer satisfaction.
Starting from 2009, the scope of our activities went beyond the Polish borders and we have been successfully building a sales and distribution network in the Czech Republic, Slovakia and, in the near future, Hungary. With excellent sales results in the above countries, we have begun the process of expanding the STALCO brand in Europe. Each country has people with different tastes and mentality, but the people worldwide tend to value reliability, quality and professionalism; therefore, we are confident about the success of the STALCO brand in other countries.
CATALOGS 2023
If you are interested in cooperation, please contact our company My Home Tools