Stalco is a trading and manufacturing operation. Our trading business is the sales of tools in 10 product categories.
Our manufacturing business produces fasteners, boards and levels, as well as shelving rack systems.
Today, Stalco is ready to compete with the largest corporations in the world.
We carry our products in 2 lines – Stalco and Stalco Perfect. By addition of the Stalco Perfect line of professional articles, Stalco stands out with superior quality and has been consistently perfecting its products. Stalco provides products which perfectly meet the expectations of professional, specialised, and retail customers.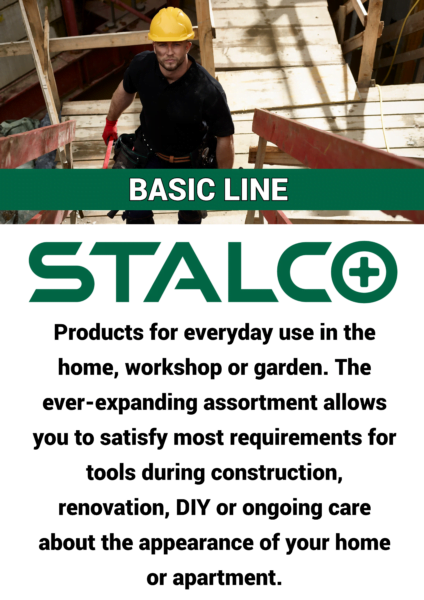 All our efforts are focused on the individual needs and satisfaction of our customers. In our opinion, continuous availability of product offers and comprehensive information about products are an obvious part of optimal customer service. This thesis is backed by a high level of customer satisfaction.
Starting from 2009, the scope of our activities went beyond the Polish borders and we have been successfully building a sales and distribution network in the Czech Republic, Slovakia and, in the near future, Hungary. With excellent sales results in the above countries, we have begun the process of expanding the STALCO brand in Europe. Each country has people with different tastes and mentality, but the people worldwide tend to value reliability, quality and professionalism; therefore, we are confident about the success of the STALCO brand in other countries.
CATALOGS 2023
If you are interested in cooperation, please contact our company My Home Tools